Video Analytics
Prevent till fraud within your business with a high quality CCTV solution
| | |
| --- | --- |
| Scan Alarms says: "Across the Belfast area we have installed numerous till fraud solutions to retail businesses to great success." | |

CCTV Systems & Video Analytics

Video analytic software is used for the detection of margin eroding activity at a retail point of sale. We at Scan Alarms use an advanced platform of video and data mining analysis, to combat till fraud and give our clients across Northern Ireland the information that they need to fix, enhance and protect their gross margin. Our point of sale video intelligence will identify the full range of non-scan activities whether they are human error, system error or indeed till fraud.

| | |
| --- | --- |
| | High quality, efficient and reliable security solutions |
| | Professional and friendly installation team |
| | Video analysis to reduce till fraudulent activity |
| | |
Retail Marketing Analytics
In addition to CCTV systems keeping watch for shoplifters, till fraud and health and safety issues such as proving or disproving slip and trip claims, the introduction of 360 degree "birds eye view" and conventional HD cameras and video analytics software can provide valuable retail marketing information through heat mapping and behavioural analysis.

For the average person watching people come and go around a retail store, the movements can seem random, with no apparent pattern behind them.

But for those who deploy the latest in Video Analytics, those same travels within a defined space can be tracked and analysed to allow shop owners, management or marketing and merchandising staff to make key business decisions related to promotional displays, merchandising, personnel positioning and, of course, security.

This becomes important as retailers seek to maximize the effectiveness of their available retail space and increase overall store sales performance. A particular layout or promotion may appear successful in theory, but if customers do not actually visit those areas within the shop, find a promotional display or don't stop to really look at it,, then sales will suffer. Heat mapping can show retailers the traffic patterns within the store and help them determine where the items should be placed.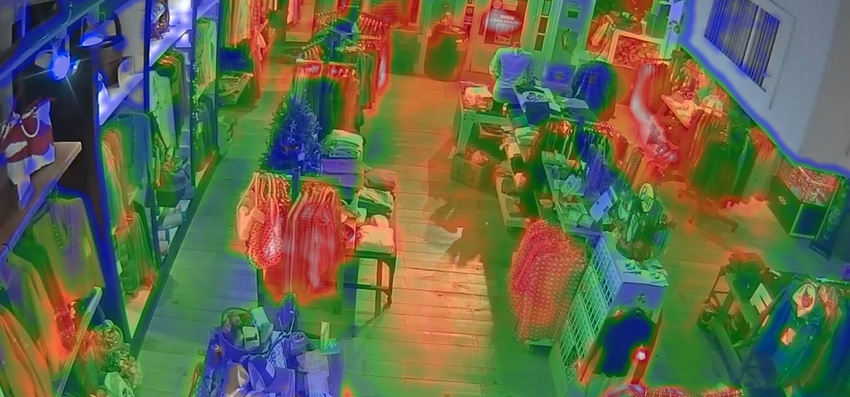 What information can I expect?
| | |
| --- | --- |
| | People counting enabled on entrance door cameras provides reasonably accurate footfall figures entering the shop at each public entrance and to segregated areas such as off sales, Gents, Ladies or childrens departments. |
| | Heatmapping, one of the newest analytic tools available provides a visual interpretation of human traffic patterns within the retail sales area. The movements of those people who appear to be merely walking through the store are now captured and analysed, and the resulting data can be looked at more closely. Heat mapping can easily identify traffic patterns and trends at various times during trading to monitor and assist the marketing and merchandising team with promotional product placement, advertising graphics and staffing levels. Where in-store concessions or ATMs are present, heat mapping can also provide an indication of the levels of traffic purely visiting the concession(s) and leaving again or continuing to shop within the main retail area and at different times of the day. |
| | Optional dwell analysis and/or alarms may be implemented on specific cameras to detect customers lingering in a particular area of retail. In alarm mode this can be used to immediately highlight a need for a sales assistant to make their way to the aisle and answer customer questions to aid the sale or in analysis mode to gauge the level of attention generated by a promotion which in turn can be compared with the actual sales data for the promotion at given times. |
| | Optional queue analysis and/or alarms may be applied to a camera viewing the queuing area at a particular counter or approach to tills. In alarm mode, this can automatically generate a signal for more staff required in that area whilst in analysis mode it provides information on queue lengths at various times of the day. |
| | Optional object abandoned or removed may be enabled on specific cameras to provide a real-time alarm indication of an object being abandoned in an aisle for a particular period of time which may cause an obstruction or hazard or it may be used to generate an alarm if a particular object such as a promotional TV/DVD player or valuable display item is removed. This function may also be applied retrospectively to recordings from analytics enabled cameras to assist in searching footage for the moment a large item was abandoned or removed. |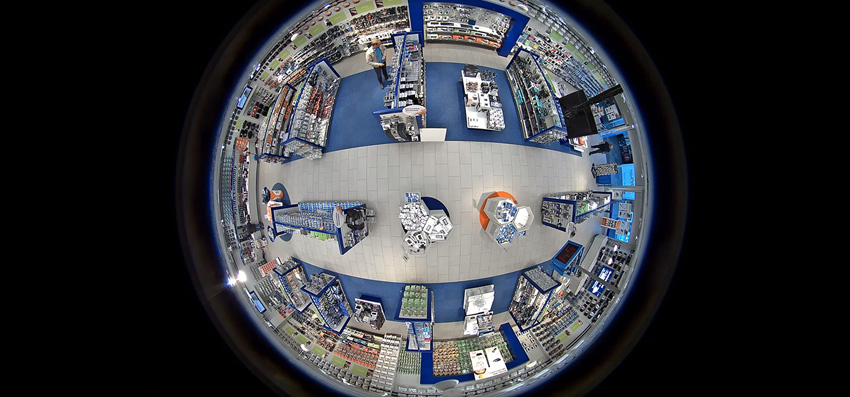 Protect your business with a CCTV system
Combining CCTV and video analysis can allow you to obtain a high level of security
and even help to prevent till or scan fraudulent activity